Enjoy your own private hideaway on the Mexican Riviera

Our one-bedroom condo offers an ideal romantic getaway with a stunning oceanfront view of Las Hadas Bay and the pacific Ocean beyond. We invite you to experience the tranquility, comfort and cultural charms offered by this very special, tropical paradise. The predominant theme for any vacation at our property is relaxation, although plenty of recreational and cultural activities are available nearby.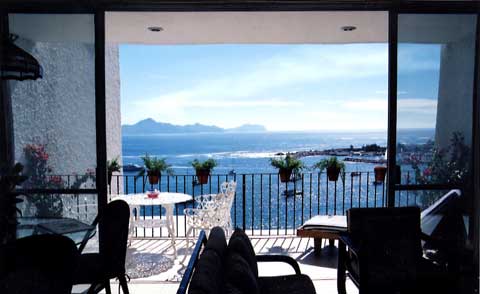 Take a stroll down to the secluded (and vendor-free) beach or pool to swim, sunbathe, nap or just read a good book by day. In the evenings, admire the spectacular Pacific sunsets and the glimmering lights of the world class Las Hadas resort, resembling a scene from a Thousand and One Nights across the bay.
Our property is immaculately maintained, very safe, enjoys a private swimming pool, a full-time, bilingual manager and a full complement of cleaning and gardening staff. The majority of Riviera Mar units are vacation properties, owned by an interesting and friendly mix of Canadians, Americans and Mexicans.
The majority of our guests have been enjoying Riviera Mar for many years — several for over a decade. We would be happy to provide their references for any prospective guests.
Condo Features
Large bedroom
Private balcony
Spacious living room / dining room
Three-piece bathroom
Fully equipped kitchen
Secluded beach in front of the property
TV and VCR
CD Stereo 
Services Provided
All linens and towels
Twice-weekly maid service
Full-time, bilingual manager
Laundry
Telephone (in condo's office)
Note: Riviera Mar is not suitable for those with mobility problems.
For those looking for accommodations for more than two people, we would be happy to put you in touch with some of our neighboring condo owners who are also willing to rent their units on a selective basis (at no profit to us).
The low-rise, Riviera Mar condo complex climbs a dramatic hillside from the ocean, and is set on a picturesque bay in the most exclusive area of Manzanillo — the Peninsula de Santiago, which is renowned for its secluded beaches, dramatic ocean vistas and luxury resorts properties.
We do not use a referral service or property management company, allowing us to pass on the savings to you.
Rates (in USD)
April to December
Weekly: $475
Per 3 weeks and more - $400/week
December to March
Weekly: $675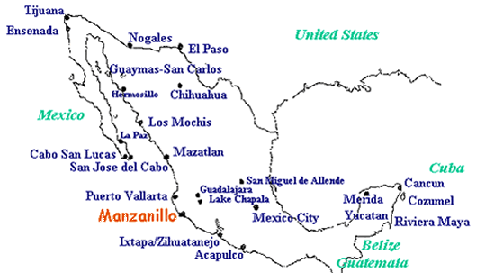 Karen Brown, author of a series of top selling guide books on special accommodations around the world, owns the adjacent property and boasts of the"breathtaking views that can't be surpassed anywhere in Mexico, not at any price." We would certainly agree, adding that the beauty of this natural vista is even occasionally enhanced by the sight of whales or dolphins playing in the bay.
Virtually anything one could want is available within a short distance of the condo, including a huge, modern supermarket, restaurants, convenience stores, banks & ATM machines, modern pharmacies, travel agents, car rental companies, etc.
Manzanillo, the Emerald of the Pacific, is located on the beautiful western coast of Mexico, 165 miles south of Puerto Vallarta and 270 miles north of Zihuatenejo. The region is somewhat off the beaten tourist path, and its regular visitors and inhabitants enjoy it that way. As opposed to some of the more heavily trafficked coastal resorts, you won't find the masses of high rise hotels or a McDonald's here, and violent crime is virtually non existent. What you will find are some of the most pristine and unspoiled beaches in the country, very friendly people and a chance to experience the authentic culture of Mexico.
Riviera Mar is located on the Peninsula de Santiago, 10 minutes north of the town of Manzanillo and 25 minutes south of Manzalillo's international airport.