A look back at our Tanzania Tour
Pauwels Travel, posted on May 30, 2017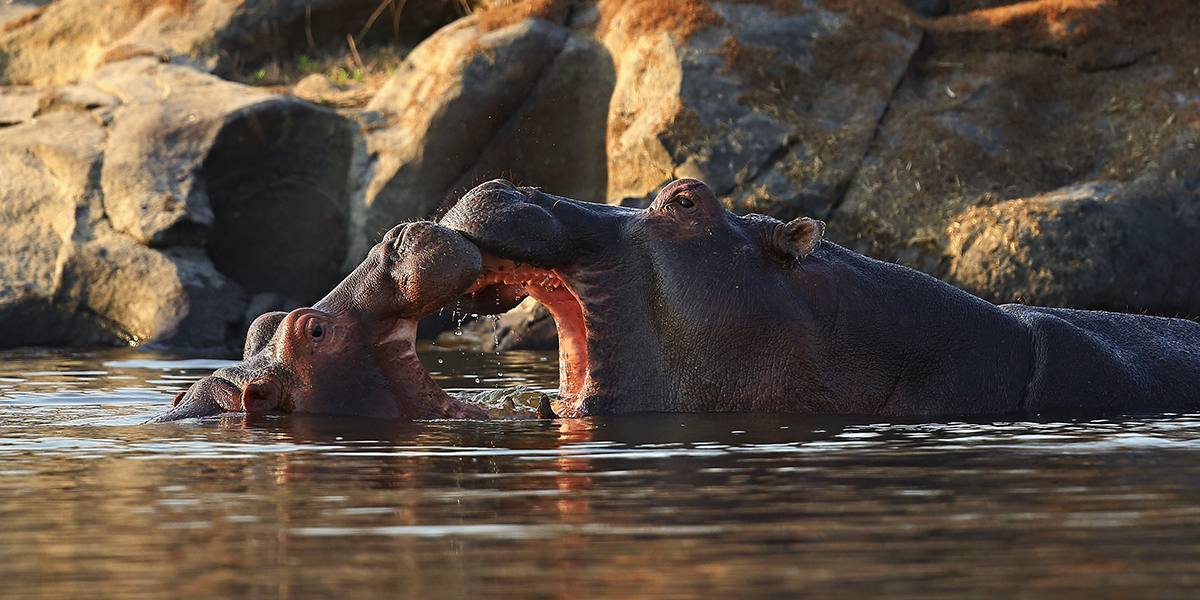 The following is a synopsis of our latest adventure. Some of the descriptions are taken from our travel itinerary provided by Pauwels Travel, managed by our good friend Sandra Pauwels, who with her husband Steve Thomas, escorted the tour. Oh yes, Steve is a good friend also! The rest of the views and comments are those of the author.

Day 1 - Our group assembles at Pearson airport for an overnight flight to Amsterdam's Schiphol Airport.

Day 2 - Morning arrival at Schiphol and after a short layover we embark on a 8 1/2 hr. flight to Mt. Kilimanjero Intl. Airport in Tanzania. Evening arrival and transfer to Arumeru River Lodge for a late dinner and overnight. Our first game sighting was a family of Dik Dik outside the lodge.

Day 3 - In the morning, we were able to catch a glimpse of Mt. Kilimanjero in the distance. After breakfast, we started our Safari with a game drive in Lake Manyara National Park. In the park we saw Elephants, Baboons, Giraffe, Lions, Impalas, Gazelles, many bird species and a rare sighting of a Leopard in a tree.
After a picnic lunch near Lake Manyara, we made our way out of the park and on to Bashay Rift Lodge in the Karatu region for dinner and overnight.

Day 4 - Today we visit Ngorongoro Crater, named for the sound that the cowbell makes that the Massai put around the neck of their cattle. The crater covers 2600 sq. km. and the caldera is what is left of a volcano that was higher than Kilimajero. The crater is home to a very rich variety of birds and animals including Warthog, Elephants, Lions, Hyaenas, Jackels, Hippos, Rhinos, Hartebeest, Wildebeest, Crested Crane and Flamingos. We were fortunate to be in the only group that saw a Rhino, albeit from quite a distance. We were also able to witness the mating of two Lions. (photo upon request) There are no Giraffe or Impala in the crater due to a lack of Acacia trees.
In the late afternoon we made our way out of the crater and on to Olduvai Camp at the start of the vast Serengeti Plain. Here we experienced a walk with the Massai to a the top of a nearby kopje (small rocky outcropping) to take in a sunset and a sundowner, courtesy of Sandra and Steve. Dinner and overnight in comfortable tented chalets. The Olduvai Gorge is a 50 km. long ravine that was once inhabited by early species of humans such as Homo Habilis and is therefore known as the "Cradle of Mankind". (Pauwels Travel)

Day 5 - In the morning , after breakfast, we set out across the dusty Serengeti toward Serengeti National Park. There are few tress here due the volcanic ash that was deposited when the volcano erupted. It is interesting to see the changes in vegetation every 20 km. or so. As the vegetation changes, so does the animal population. Thompson and Grant's Gazelles feed on the short dry grasses while Zebra, Wildebeest and Water Buffalo are found in the more lush areas.
Everywhere you look there are animals - thousand upon thousand Wildebeest and almost as many Zebra. The Great Migration is beginning. Herds of Elephants, prides of Lions and herds of Water Buffalo are common sights.
In late afternoon, after 220 km. of dusty roads, we reach our destination of Mbalgeti Lodge. The lodge features tented chalets with showers and toilets, etc. We are covered in dust so the showers are a welcome luxury.

Day 6 - This day sees us head to the Western edge of Serengeti and a small fishing village on Lake Victoria. Here we are taken on a boat ride and see various fishing methods some of which are illegal. Later we walk though the village and visit a primary school run by volunteers for children four to nine with little or no government funding because they teach English as well as Swahili. It is here that we are so thankful to live in a country such as Canada even though sometimes we cannot understand the politicos.
Today in the park we saw the usual assortment of animals and some unusual ones including a large flock of Abdim's Stork that were migrating North to the Massai Mara region in Kenya. We also saw a rare Patas monkey and a lone Hippo walking across a field to a watering hole. Our guide, Salum was quite excited to see the Storks and Patas monkey and took several photos himself.
We returned to the lodge for a second night and shower off another day of dust.

Day 7 - This day we head back eastward through the Serengeti. On our way, we stop at a Hippo pool where we see approximately 240 of the big animals wallowing in the water. Nearby are a few Crocs are keeping a watchful eye.
Excitement grows when a Leopard is spotted in a tree and all the jeeps converge for a photo-op. Later we receive information that Cheetahs have been seen in the area and we race to the spot to see a mother with two cubs. Awesome!
Time is running out on our stay in the park, but we have time for a quick look at some Hippos by a water hole before racing to the western gate at a very high rate of speed with Victor at the wheel, to avoid another time cycle which would cost $2500 for the group. We make it with little time to spare and are able to enjoy a leisurely lunch at the gate before heading back to Bashay Rift Lodge for another night.

Day 8 and 9 - For the next two days we explore Tanagire National Park. The first afternoon seems like more of what we have seen before but day two offers new excitement. In the morning, we witness a mother Cheetah "playing" with her prey - a young Dik Dik. I understand that this is nature but after a few minutes, we are ready to move on. There is no need to see more - we know what the outcome will be.
After lunch at one of the resorts in the park, we have an opportunity to take in the vistas from the deck that overlooks a small valley. The afternoon game drive offers more of the usual game but we are fascinated by a mother Cheetah with four young cubs as she moves from one hiding place to another and back again. We overnight again at the small but exquisite Tanagire River Lodge. (Pauwels) This evening, Sandra has invited the guides for a pre-dinner drink and to present them with their well-earned gratuities. The "boys" treat us to a rousing rendition of "Jambo Bwana" a popular East African song. One of our favorite guides, Kazen, who is also a musician and composer sang us a beautiful song that he has written, in French. An evening to remember. All five guide are multi-lingual and have an unbelievably vast knowledge of animals, birds and plants. They were certainly our "Big Five"!

Day 10 - In the morning we head back to Arusha on some paved roads, a bit of a treat. We have lunch at the Shanga River House and visit a small enterprise that allows physically disabled people to participate in crafts that allow them to be useful members of society.
After lunch we transfer to the small Arusha Airport. Time to say goodbye to our guides. Unfortunately, Victor has had to leave to attend the funeral of his twenty year old niece, a victim of AIDS.
At the airport we hop on a 42 seater turbo-prop for a short flight to the island of Zanzibar for a four night stay at the Karafuu Beach Resort.

Day 11 - A free day today, which we spend lounging around the pool while sipping a "Kili baridi"( a cold Kilimanjero beer) or other favorite libation.

Day 12 - We depart from the resort after breakfast to visit the Jozani Forest where we see Red Colobus monkeys, a Mangrove swamp and a visit to a spice farm. A long and uninspiring day which could have been spent doing anything else.

Day 13 - Another free day which we spend mostly at the pool or on the beach. For some it is an opportunity to start some packing. Saw and photographed a Red Colobus monkey as he posed for the breakfast crowd.

Day 14 - After breakfast we transfer to Stonetown where we have lunch and are taken on a gruelling three hour route march through the filth and stench of Stonetown and it's markets. who knew that we would be so happy to jump on a little 13 seat - single engine plane for a short flight to Dar es Salam.
Problems arise when there is no bus to take us to dinner so after check-in, we grab a burger and fries at the airport. OOPS! We depart Dar es Salam at midnight for a 8 1/2 hr. flight to Amsterdam.

Day 15 - Morning arrival at Schiphol airport and a six hour layover before departing for Toronto Pearson airport. We arrive around four and are home by six thirty. These long days in planes and airports are the price we have to pay to visit exotic far-away lands. We did not see a bed from Friday morning until Saturday evening.

We are glad to be home safely!